INVITATION                     
Emerald Heart Mountain Retreat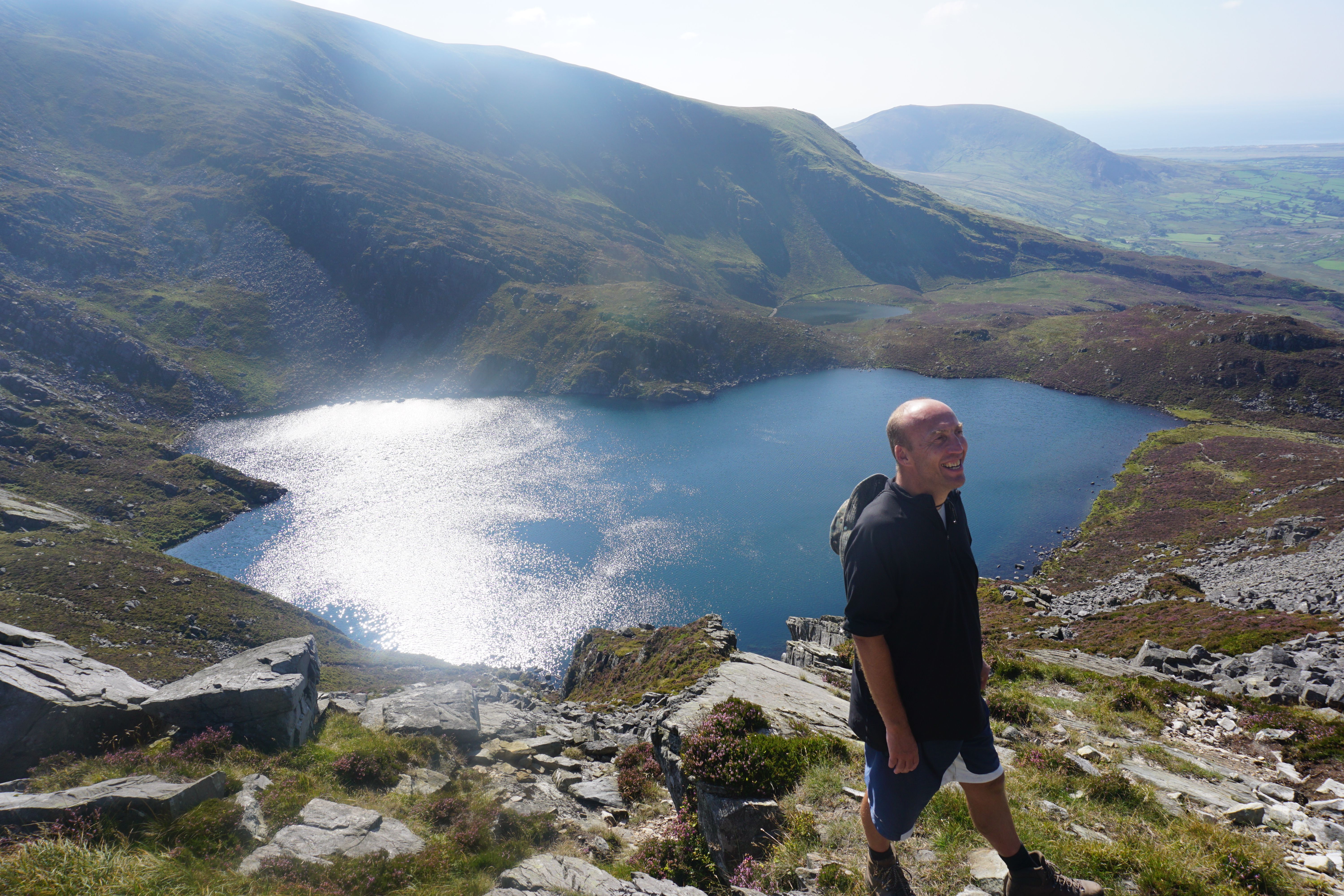 With Tim Dyson
Monday August 7th to Sunday August13th 2017     
 Following the success of the two previous Mountain Retreats, Tim is holding a third Emerald Heart Mountain Retreat this year.
Once again we are staying in the lovely North Wales seaside town of Harlech, with the Rhinog mountains to our rear and the Irish Sea in front of us. The house we have been using these last years was pretty perfect for our needs being so big and spacious and so we will be staying there again this year.
Emerald Heart Practitioner Irene, who some of you will know from earlier retreats, will be doing the cooking. Irene is a very naturally loving and caring soul as well as a spiritual teacher in her own right and is the perfect person to be providing us with much needed wholesome meals after our days exertions in the mountains. Irene's husband Henning, who again many will also know, will make up the team. Henning is powerful healer with a very successful healing practice and by nature a very caring person. He will be providing much valued assistance to Irene in the kitchen, general support to you all in the house as well as helping Tim to support you all in the mountains. Tim and Henning work well together in mountains and both have considerable experience and confidence in helping others to get the most from their time in them. I can say therefore, with the utmost confidence that you will be well looked after.
Harlech itself, is a sweet little town with a magnificent castle and a long stretch of unspoiled sandy beach with impressive sand dunes. http://www.harlech.com/harlech.html
The Rhinog mountain range is a largely unknown gem of natural beauty, which Tim knows well having hiked in it since childhood with his family. Most people go to the higher mountains of the Snowdon range and don't know of the existence of the Rhinogs, which is great as you can often walk all day without seeing another soul!  Those that know them tend to fall in love with them.  Both their natural beauty and the uniqueness of much of the terrain makes for very exciting and magical adventures, that often coupled with an absolute lack of people, make them  hard to surpass as an ideal retreat location. They will serve our intentions perfectly. There are some great photos from the 2015 Retreat in this article; http://emeraldheartlight.com/2015/09/23/tim-dyson-emerald-heart-mountain-hiking-retreat/
The focus of the Retreat will cover several aspects that are very important for our continued spiritual growth and development. Firstly, it will be about coming together to experience the Light of The Emerald Heart as a group and we will work to foster a sense of a group experience, one in which all participants will have a supported and joyous adventure/journey both collectively and individually.
As we come together as a group, the Light will be magnified. All those who have experienced Emerald Heart retreats previously will know the transformational power to be experienced, which will continue to unfold for several months after you have absorbed the Light.
The week will encompass:
 The Emerald Heart Light
 We will experience a number of different ways of working with The Emerald Heart Light all geared to opening and expanding our consciousness to deeper aspects of ourselves and the nature around us. The light will trigger unfolding processes deep within us that will carry on for quite some time after the retreat has finished.
Working with the Mountains
 Working with the energies of the Rhinog Mountains in often shamanic ways, to open up our energy systems in order to strengthen both our physical and energetic stamina and find the softness within ourselves as the old tensions fall away and we allow the consciousness of the mountains and Mother Earth to permeate our beings.
 This will enable us to channel and carry a growing amount of light. If you think of the analogy of a house, when the foundation is strong and stable and the rest of the structure is sound, everything you then do with it is built on this firm foundation.
Spiritual Hiking with Awareness
We will use Spiritual Hiking or 'hiking with awareness' as a primary means to achieve this goal. What you do during these retreat days will carry you energetically, in large measure, through Autumn and Winter. From an energetic point of view it is important to do the most work in Spring and Summer, the time of the year when our energy systems are most active. It is a very good time to work on our basic energetic stamina and conditioning. To strengthen ourselves through strong transformational approaches so that when Winter comes we have done the active yang work in earlier months and our bodies and energy systems will carry us through the quieter Winter months with just basic maintenance being sufficient. 
If you think of how a farmer grows and tends a crop, there is the time of year to dig and plough and to prepare the earth for sowing- the hard work part. Once the crop is sown he just has to keep an eye on it. Our bodies and energy systems are like this. There is a right time in the year to do the harder work and a right time to be more still and inward focused.
Connecting with the Spirit of Nature and the Spirit of the Mountain
 As the Light unfolds within you as the retreat progresses, we will become more open and empty. We will feel our energy and consciousness expanding and growing, as we are guided by the teachers and own Higher Selves in how to connect deeply into different aspects of nature.
We will work with the masculine and feminine Spirits of the Mountain, the wildness of the landscape as well as entering into the softer aspects of the Earth Mother herself.  We will learn to connect reflections of nature within ourselves; our wild sides, our soft or quiet sides. We will give all of these aspects of ourselves proper healthy expression as the Emerald Heart Light works deeper and deeper within our Beings to the point where we will be able to perceive ourselves as walking Light through the mountains.
Evening Retreat
 In the evenings we will continue the Togetherness of the day by cooking and eating together and sharing our experiences of the day. You will have the opportunity to take part in guided meditations, yoga or chi gong, all of which will help take you deeper into your own Inner Silence after the expansion and excitement of the days experiences.
Tim
                         Tim is the Principle of the Emerald Heart School of Enlightenment.
He has a long experience of mountains and of using them as ways to open and transform our energy systems to create energetic stamina, health and vitality and derives much joy from  leading people through these experiences and in helping them to overcome any limitations, through going beyond what they believe is possible.
THE DETAILS
 We will be staying in a large house just beneath Harlech Castle with room for 12 guests with five bathrooms. Obviously, spaces are limited so don't sleep on responding if this Invitation calls to you in anyway.
Harlech is accessible by train and is approx 5 hours from London. For those coming from abroad it is nearest to Birmingham airport but Manchester airport is not that much further away. We will help those coming from abroad with train routes info etc.
There is a reasonable amount of parking space for those travelling by car.
All food will be provided by us for meals in the house and good snacks for hiking. We will provide transportation into the mountains.
The total cost for everything, the Teachings, accommodation, food, etc., is
only £595.00 per person.
The response even before publicity has been sent out, has been tremendous so to book your place on this special transformative Retreat contact Tim Dyson on:timdyson@talktalk.net straight away upon receiving this mail and send a non refundable deposit of £200.00 no later than April 30th.
The balance of payment, £395.00 is due by July 21st.
 Further practical information will be provided after booking.
.
For the printable.pdf version of this information click the link below: https://emeraldheartlight.global/wp-content/uploads/2017/02/ehmountainretreat2017.pdf