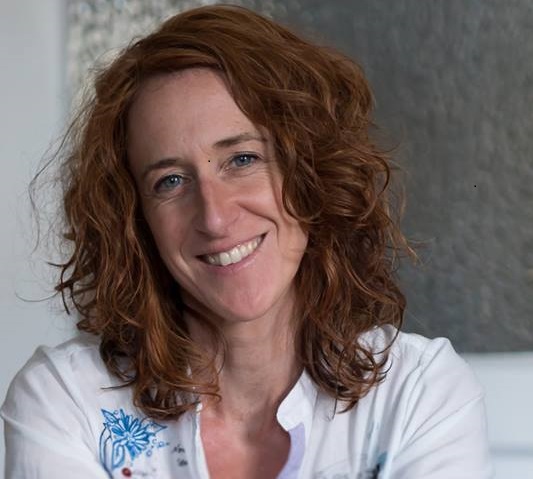 Alexandra Meyn, assistant and organizer of the Divine Plan Retreat,  visited the magical site of Lavaldieu, where this coming June our unique Divine Plan retreat takes place. She gives us her impression of the stunning nature and powerful earth energies. We only have a few places left, so don't wait too long if you feel called to participate.
---
Driving home from our holiday in Spain I decided to take the opportunity and visit the beautiful area in the South of France where we will offer the Divine Plan Retreat. From the 9th to the 14th of June we will connect there with the Divine Feminine and Mary Magdalene and also give our participants the Divine Plan Healer Training. This exceptional retreat will be given by my colleague Harriët Kroon. She is the Mother of the Divine Plan Healing System and one of the Elders of the Emerald Heart. As I am the organizer and assistant of the upcoming retreat, I thought it would be a good idea to have a look at our accommodation in Lavaldieu, get to know our host Patricia and tune into the energies of the area.
Vegetarian guesthouse with original oak beams
Originally, Lavaldieu was a hamlet with 5 houses which fell into ruin after the 1st World War. Arriving there I was welcomed by a group of horses and ponies who are bred by Patricia and her husband. Since 1984 the couple  has been slowly restoring the hamlet in traditional style and they have converted  one building into a vegetarian guesthouse. The shared bedrooms are simple but pleasant and in almost every room of the house you will find the original oak beams.  One of Patricia's domains is her spacious kitchen, in which she will prepare and cook our vegetarian and organic meals. She has been a vegetarian cook for 25 years and I am looking forward to her delicious dishes.
Chi kung under the meditation tree
I am very impressed by the picturesque landscape around Lavaldieu. It is surrounded by hectares of beautiful nature, wild flowers and organic gardens. And as Lavaldieu is in the middle of nowhere, with no traffic, shops and restaurants around, you can immediately tune into the peace and quiet, and experience the powerful energies of Mother Earth in this magical spot. What I liked most is the mediation tree, a huge ancient oak tree with a magnificent view of Mount Bugarach. I am really looking forward to starting our retreat days there with the Taoist chi kung led by Harriët.
Mary Magdalene, spiritual teacher
Lavaldieu is situated in a region of mysterious history. It is very close to various sacred sites and ruined Cathar castles. According to the French tradition, Mary Magdalene (the source of the Divine Plan Healing System) has lived and worked in this area as a spiritual teacher. During my visit I came to the conclusion that Lavaldieu is indeed the most perfect spot to sink deeply into the energies of the Divine Mother and connect with Mary Magdalene.
Only a few places left
Don't miss the opportunity to register now for our unique Divine Plan Retreat, since there are only a few places left. For more detailed information, you can download the full retreat description here.
Booking and questions
The investment is 950.- Euro. This includes your stay at Lavaldieu, two excursions to various sacred sites with a fantastic, professional spiritual tourist guide, the complete Divine Plan Training and much more. If you prefer to use the campsite, there is a 100 Euro discount.
You can reserve your place by making a deposit of 250.- Euro. The rest of your investment is due by the 15th of March. To book your place, or ask any further questions, please contact Alexandra Meyn on: divineplanretreat2018@gmail.com.
I look forward to spending these magical days together with you.
With Love and Blessings,
Alexandra Meyn,
Munich, Germany
Advanced Divine Plan Healer
Emerald Heart Program Practitioner
South of France… here we come!!
Website: www.divineplanhealingschool.org
Facebook: www.facebook.com/divineplanhealing